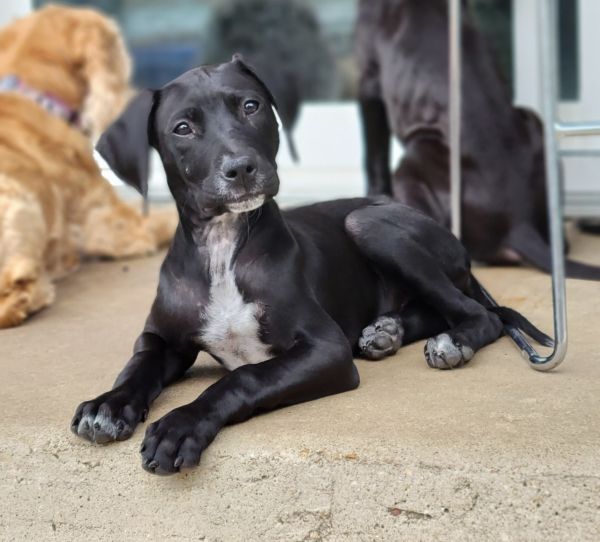 Click on small image to enlarge it.
Tux is a beauty--with sleek black hair, a white breast and a touch of white on the tip of her tail. She loves other dogs and things to play with. She's still young so she enjoys a good chew too! Tux is a vocal gal and won't be suited for a home with shared walls. How did Tux end up in Cocker Rescue? Sometimes we get in littles that we call "cocker adjacent" or "nottacockers"-- A lot of times, the reason this happens is because we may get called about a long haired, spanielly-looking little thing and there is a short-haired sibling-- we believe in the motto "Leave No Pup Behind!" because having a short coat shouldn't mean you don't get rescued with your sister! So, here we are with a group of 8 little cuties that one foster mom likes to call "The Baby Sharks"--infer from that what you will about which teething phase they're in... PLEASE READ THE FOLLOWING: CSRA has puppy policies that you should read before applying.
http://www.austincockerrescue.org/puppy-policies/
All of our dogs/puppies stay in foster homes, there is not a shelter building. We do not make arrangements for unapproved applicants or folks without an application to meet puppies. We do not ship dogs or accept out of state (Texas) applications. Please note that email is our preferred method of communication--you can reach us at woof@austincockerrescue.org. Phone calls about specific dogs will not be returned. Thanks so much for your interest in rescue!
Baby, Female, Medium