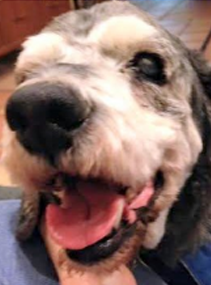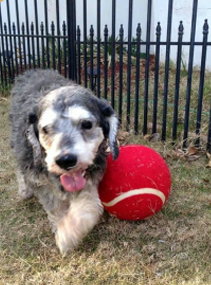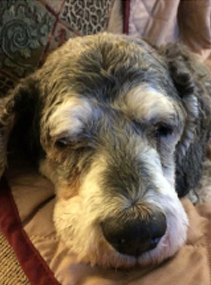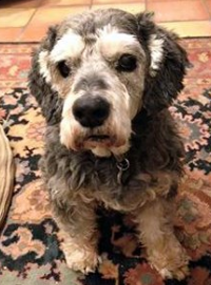 Here's how our evening conversations go:
Sebastian: "You have food."
Me: Yes. It's mine.
S: "I have no food."
M: You just finished dinner. The bowl is still on the mat in the kitchen.
S: "No. That was someone else."
M: It was you.
S: "Share. Now."
M: No. This is mine, you had yours.
S: "I have no food but I'm showing good manners so I should have food."
M: Thank you for showing good manners. You will get a cookie when I'm finished here.
S: "Now."
M: no.
S: "Right now. please."
me: No. OH for heavens sake. Just. Stop. Staring.
S: "You have food and I have no food."
Sebastian is 15 years old. A cocker/schnauzer blend with a great deal of tenacity. No way to win an argument with him. He is very single minded but 99% Perfect Housedog. No one would ever believe he is 15 years old because he runs and plays and pushes the cockers around. His favorite thing is to swing his rear and whack them with it. They all become very grim when he body checks them and he laughs at them. It's very hard to be mad at Sebastian- he's a Very Good Boy with a LOT of life left to live.
Sebastian lost the only home he had ever know when his old mom passed away and the family dropped him and his two companions at the shelter. The others were adopted but not Sebastian. He was busy moping and looking pitiful, which is never a good marketing plan for a shelter dog. He grieved terribly but pulled out of it and decided to live life to the fullest. He runs, jumps up on the sofa on his own, and is house trained. Also, he is a new member of the Red Collar Club – an organization specifically for seniors like him. He received his red collar, purple leash and official "dog tag" in a ceremony a couple of weeks ago. His official title is Corporal Sebastian O'Riley. Commander Skipper officiated, even though Sebastian is an Army man and Skip is all Navy. It's always good with the branches of service can cooperate.